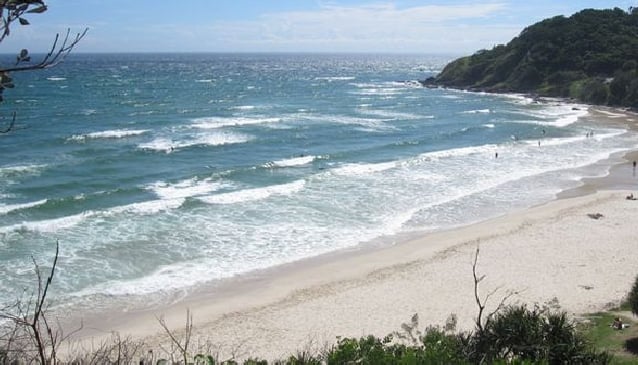 The Best Beaches in Byron Bay
Inspiration
With over 32 kilometres of gorgeous beaches surrounding Byron Bay, you'd have to have particularly peculiar demands not to find something to suit your tastes here. Whether you cling to a deck chair as if it's just fallen off a ship with you on it, or head straight for the waves with a surfboard lodged deep within the pit of your arm, Byron Bay has you covered (even if your swimming costume doesn't, in which case you should scroll down to Belongil beach immediately).
Main Beach
This is where the action happens, a mouth-watering stretch of beach where the town meets the ocean. Main Beach surveys broad views out to the Julian Rocks, and is a great spot for sunbathing and swimming, with the added security of surf lifesavers that patrol during the summer months. Consequently, it is frequented with backpackers and posers, meaning it can be a somewhat crowded stretch of sand.
The iconic Beach Hotel sits perched overlooking the waves here, a great spot for post-beach drinks, while the grass verge above the beach is a vibrant hotspot when the sun goes down, brought to life by people dining al fresco, dancing to bongo drums, and simply soaking up the atmosphere.
The Pass
Take a leisurely fifteen minute stroll along the sandy corridor to the right of Main beach, continuing along Clarkes beach (where some local kayak tours depart), and you'll eventually step foot upon The Pass, a stretch of sand famed for its surf break (and, as a result, home to many surf schools). The Pass is a great spot to hang out, either in or out of the water, and is a convenient place to board dive boats that make trips out to the Julian Rocks. There's a car park here if you don't fancy the walk, complete with outdoor showers, public BBQs, toilet facilities and a newly re-opened café.
Watego's
Over the hill from The Pass lies the stunning golden crescent of Watego's beach, nestled snuggly within the tranquil Palm Valley and presided over by the magnificent Cape Byron lighthouse. Renowned as a secluded celebrity hideaway, Watego's is Byron's upmarket beach suburb, where you'll find a small enclave of luxury accommodation and beach houses. This is a popular beach with families (again, there are a number of public BBQs) and those learning to surf, as well as a delightful local dolphin pod who often caper in the lolling waters.
Tallow
On the other side of Cape Byron lighthouse is the gorgeously rugged Tallow beach, stretching some 7 kilometres. Much quieter than Byron's town beaches, it radiates in a manner that steals the breath of its visitors. From the surf at 'Cosy Corner', where the break tucks in beneath the lighthouse, to the spectacular long walks that can be taken here at sunrise, Tallow exudes a veritable magic. Beware, however: this is an ocean beach with strong currents and rips, so it is not recommended for swimming.
Broken Head
At the very far end of Tallow heading south, roughly 10 minutes' drive from Byron Bay itself, is Broken Head. Another popular surf spot, Broken Head feels quite remote, and is perfect for those seeking a beach day away from the crowds. A coastal rainforest runs right down to the sea here, combining with golden sands and clear blue waves to create a stunning vista. There's a caravan park situated behind the beach as well, with a great grassy area amongst Bangalow palms that is ideal for picnics and BBQs.
Belongil
The golden sands of Belongil beach start just to the left of Byron Bay's Main beach, cradling a body of water that conceals the eerie shipwreck of the SS Wollongbar, a vessel that ran aground during a cyclone back in the 1920s, where it has remained ever since. Part of the Wollongbar remains exposed, which makes for an enrapturing sight as well as creating a hollow right-peeling surf break.
In calm conditions, Belongil is a popular place to go snorkelling, while a 10 minute stroll along its length will take you to secluded patches where you can feel truly alone. Views of the hinterland and volcanic hills cape provide a spectacular backdrop to the beach, which is also canine-friendly. It's also worth noting that part of North Belongil (near the creek, ironically) is a known naturist spot, so be prepared to either get your kit off in anticipation, or be visually affronted by those one step ahead.
Tokarina at Brunswick Heads
Located about 15 minutes' drive from Byron Bay in the pretty fishing village of Brunswick Heads, Tokarina is a fantastic little beach that suits every member of the family. It reposes beside a river, a short distance before the ocean break walls, and offers calm water that swells above a lovely bed of sand. This is a much safer swimming option than the ocean-facing surf beaches, which makes it ideal for children. What's more, Brunswick Heads itself is a cute little village with a variety of cafés and a famous pub, and is a suitably scenic spot for a picnic or stroll.